Ionized nitrogen painting
7. 2. 2012, Kromeriz
The joint-stock company PLASTIKA uses a technology of ionized nitrogen painting.
Nitrogen instead of air
Thanks to investment in the paintshop we installed an equipment for ionized nitrogen painting of the plastic parts. This technology that, instead of standard pressed air, presses the paint in the robot by means of ionized nitrogen containing the opposite charge than existing on the raw parts.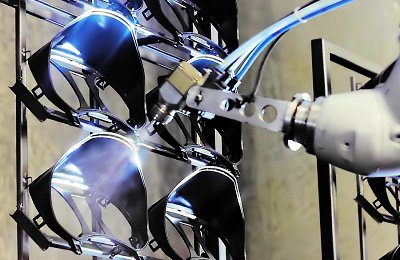 Robotic ionized nitrogen painting
Advantages of ionized nitrogen painting are especially lower paint consumption, less scrap and better paint adhesion. The nitrogen painting reduces a number of movements of the painting robot.
Painting
Beside the new technology PLASTIKA a.s. provides you with robotic and manual one and bi-component painting with water-based paints. An indivisible part of automated paint line equipped with six-axis robots is liquid CO2 cleaning. The paint shop is equipped with a laboratory for the testing of painted parts.
Complete plastic components
PLASTIKA a.s. Kroměříž belongs with annual sales 500 mil. CZK to important suppliers of complete plastic sub-components of industrial products, especially for automotive and PC industry.
---
Related links
Last update 07/02/2012