3D measuring
Measuring on portal-type 3D measuring CNC machine enhances objectivity of measuring. The measuring device was put into operation in May 1999.
3D measuring device
To safeguard objectivity of measuring of spatially sophisticated components and to support in determining capability of processes, machines and moulds. We make a wide use of the portal-type 3D measuring CNC machine by Wenzel company.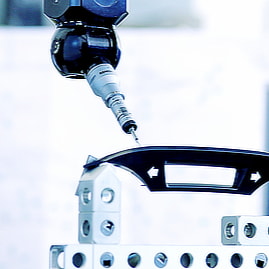 Wenzel LH 65
Wenzel LH 65 is a portal-type 3D measuring CNC machine. The machine enables us to measure products within their entire dimensional range with sufficient leeway in accuracy of measurement in respect to a defined deviation U3 = (3+L/350)µm.
Measuring
Measurements can be related either to values specified by a classic drawing or to a model created and saved in form of a 3D electronic file.
The measuring probe Renishaw TP2 is fixed on a PH9A revolving head. The PH9A revolving head is motorized and indexable.
Parameters
Measuring space

x = 650 mm
y = 750 mm
z = 500 mm

Deviation

U3 = (3+L/350)µm

Table carrying capacity

500 kg

Measuring head

Renishaw PH9A
Revolving head
Computer model
Measuring according to a computer model. The measuring machine 3D control software will process files in IGES and VDA formats.
Statistics
Cp; Cpk
Frequency histogram
Measured values trend diagram
Manufacturers