Location
PLASTIKA a.s.
Kaplanova 2830
767 01 Kroměříž
Czech Republic
tel.
+420 573 511 111
plastika@plastika.cz
GPS:
E 17.401, N 49.309 (17° 24' 4" E, 49° 18' 31" N)
Praha

Praha (D1), Brno (D1), Kromeriz.
Distance about 265 km.

Mikulov (Wien)

Mikulov, Brno (D1), Kromeriz.
Distance about 110 km (190 km).

Ostrava

Ostrava (D1), Lipnik n. B. (D1), Prerov, Hulin, Kromeriz.
Distance about 110 km.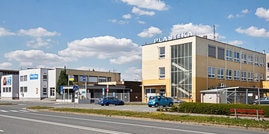 PLASTIKA a.s. is situated on the outskirts of the North-Eastern part of the city, inside the industrial zone. You must get on the ring road from Brno to Chropyne.
City of Kromeriz and its surroundings
During the reign of Bishop Karl II of Liechtenstein-Castlecorn (1664-1695); the city was greatly developed, the chateau repaired and extended, and a large number of buildings were either constructed or reconstructed. It was during his reign that the Kromeriz flower garden and chateau garden were created. It was at this time that the chateau band was established which with its 36 members was the largest in Europe at the time.
In the revolutionary year of 1848, the Assembly of Austrian Nations held session in the chateau's large dining-hall.
The city has been listed since 1999 as a UNESCO World and Cultural Heritage City.