Automated Wash Line
Thanks to our wash line we guarantee you a clean packaging.
Wash Line
The automated wash line ensures an efficient cleaning of packaging which eliminates damage to products and their contamination.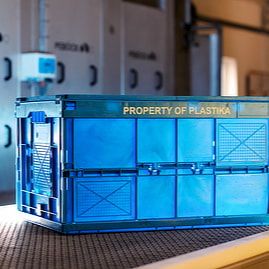 Packing Unit
The automated wash line consists also of an automatic packing unit to keep the packaging clean. Thanks to this unit the packaging remains clean longer and it can even be usable without any risk of contamination. This method of packing ensures higher stability during handling and transport.
Services
We offer regular as well as contract washing of plastic pallets, KLT boxes and other boxes, lids, layers and blisters which are regularly used in automotive industry or other segments.
Within the provided service we ensure also some partial operations which we provide as a whole or individually as following:
transport from a customer including handling,
washing and drying process,
palletizing, machine stretch film packing,
records in the information system,
storage,
backhaul to the customer - delivery of clean, degreased and dry packaging up to customer requirements.
Capacity of Wash Line
The washing capacity is approx. 150 containers per hour.