Logistic Centre
If you are seeking flexibility and want to cut down logistic costs, then Plastika Logistic Centre is the right partner for your business.
Logistic Centre
The Logistic Centre, as a part of Plastika offers its' customers:
Advanced production technology (injection moulding, assembly, laser-printing and tampo-printing, testing).
Experience built on long-term cooperation with renowned companies.
Experience with just-in-time logistics for Fujitsu Technology Solutions.
Proven know-how for possible problem solving.
Own purchasing management.
Integration into customer's system.
Geographic location is an advantage.
Use of local carriers.
Multi-lingual staff.
Individual supply solution.
Manufacture, transport and procurement optimisation partnership.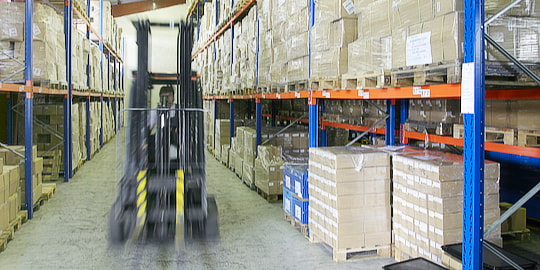 Logistic centre depot
Computer keyboards
In Europe today, there is demand for more than 40 different language configurations on each type of computer keyboard. In our logistic centre we currently print up to 16 different languages on any one type of keyboard each day, and ship 12 different language types. Last year we shipped more than 3 million keyboards just for one customer to various destinations of their choosing. Customer schedules are dealt with on the same day they are received and notification of next day delivery is sent out to the various delivery points also on that day.
Logistic Centre Development
We have acquired experience which we are now making use of in the Logistic Centre. During the first stage, we were engaged only in the manufacture of keys and keyboard covers in the form of injection procured components and assembled keyboards.
In the second stage, our offer of services included keyboard printing in the form of laser-print and tampo-print, with significant emphasis on supplying a logistics service.
In December 2005, the Logistic Centre was established, the portfolio of services expanded to include testing, own purchases of keyboards and the routing of our supplies direct to the assembly lines, with virtually immediate distribution to our customer locations.
We have been creating a new distribution channel for European market together with our Chinese partner since 2007. We offer high-quality keyboards with European design and high-quality abrasion-resistant printing, mice and Bluetooth adapters for HiFi-Home Entertainment as well.
The quality of our product portfolio has been verified by long-term co-operation with companies Fujitsu Technology Solutions, Belkin and Logitech. The products meet all and any European and American quality and RoHS requirements.
We can be and are ready to meet your specific requirements, e.g. colour change in very short time or realization of your own design within three months.
Last update 13/08/2019