Design office
A modern design office enables us to process drawing documentation in electronic form - CAD. ISDN modem connects us with the OFTP/ODETTE B2B system.
CAD
The design office's powerful hardware and software also utilises the Autodesk Inventor.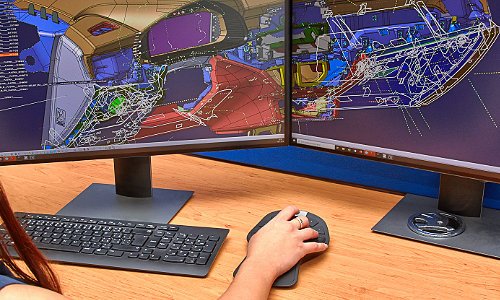 Design office
Files
Supported file formats.
3ds
asm do v. 20
brd
catpart
dwg
dxb
dxf
igs, ige, iges
ipt, iam, idw, ipn, ide
prt do v. 20
sat do v. 7.0
sldprt, slddrw
stp, ste, step
By us preferred formats are indicated in bold print.
Applications
SolidWorks
Catia
Siemens NX
Platform
MS Windows.
EDI
Odette International is an organisation, formed by the automotive industry for the automotive industry. It specifies the B2B standards for e-business communication, data exchange and logistics.
We utilise the OFTP/ODETTE standard via our ISDN modem for EDI - exchange of electronic files (drawings, models, etc).
Odette-ID

O094200030261bb320bPKZ
b = blank character

Password to be sent

VN12BK78

Product name

rvsNT

ISDN number

+420 573 331 170

Stand by

On request
Printing
A Hewlett-Packard ink jet printer enables us to produce drawings up to A1 in size.
Last update 05/12/2019